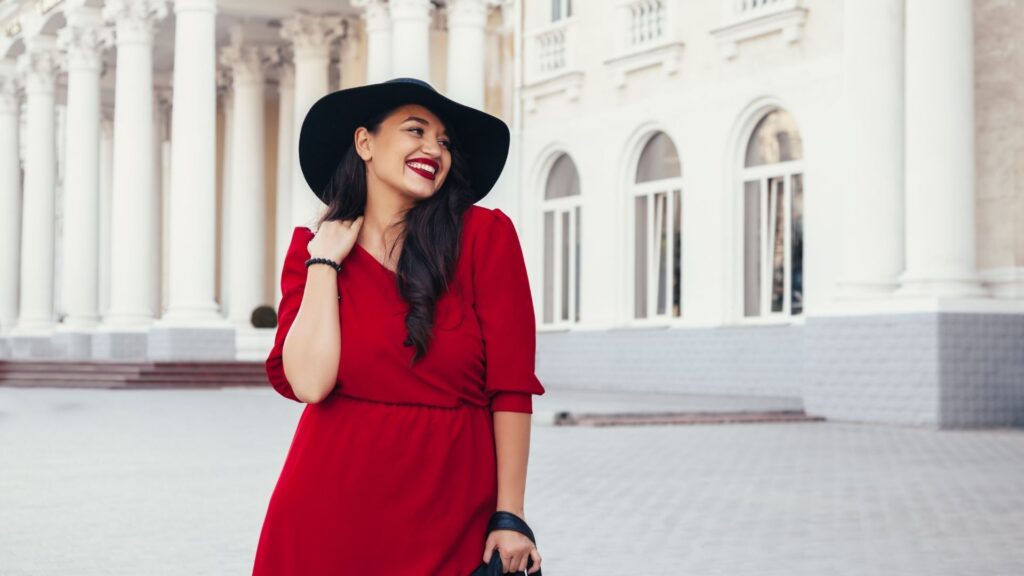 11 Ways to Look Your Best – No Matter What Your Size
Fashionistas of all sizes want tips on how to make their wardrobe accentuate their shape. Here's some helpful advice from fashion experts that will help you look slimmer and get the best out of your clothes no matter the occasion.
Invest in a Wrap Dress
Universally flattering, asymmetrical cuts whittle down your waist and hide trouble spots. Designer Diane von Furstenberg, who popularized the look, explains: "A wrap dress does exactly what it claims: It wraps you. And because it's typically made of jersey fabric, it molds to your body, helping to sculpt it."
Sport a V-neck Top
The neckline narrows as it plunges–the lower, the better–emphasizing the length of your neck and upper body and giving the illusion of a leaner line.
Avoid Pleats
Whether they're on the waist, hips, or neckline, extra fabric and fussy details like ruffles and gathers can make you look bulky. Stick with simple shapes.
Dress in All One Color
You've probably heard that wearing all black makes you seem more slender, but–surprise!–going head to toe in any dark hue like chocolate, navy, or charcoal achieves the same streamlined effect.
Keep Pant Hems Long
Tailor your trousers so they're no shorter than half an inch from the floor. A straight-leg cut gives the appearance of a lean, never-ending leg.
Put on Heels with Pants
They'll make you stand straighter while lifting your butt and elongating your legs. To create a seamless silhouette, opt to match the shade of the shoe and pants as close as possible.
Wear Vertical Lines
They lengthen your figure because the eye naturally follows the pattern, making you look taller and thinner. But don't overdo it. Varying widths and colors can be distracting, not slimming. Best bets: Try a turtleneck under a striped dress in a basic shape, or pin-striped pants paired with a blouse in a solid color.
Accessorize with Long Necklaces
Bold or layered chains that fall from mid-chest to your waist pull the eye downward, making you appear trimmer.
Hem Your Skirt to the Perfect Length
It should fall just above or just below your knee, emphasizing the area between your thigh and calf. Mid-thigh skirts draw attention to the thickest part of your leg, while ultra-long skirts can look frumpy.
Choose Clothes That Fit Just Right
Sounds obvious, but if your self-confidence is flagging, it's easy to dress in baggy outfits that only add volume, and too-tight pieces are unforgiving of even the slightest bump. Trust us: The proper fit will automatically boost your confidence–and your style.
Screw It All!
While the above are all great suggestions, that's what I consider them – suggestions.
The most flattering look that anyone can wear is a look of confidence! So use these suggestions as you like, but most importantly choose the styles, clothes, colors, etc., that make YOU feel good. If nothing on this list appeals to you, do you! Who cares what the "experts" say? You're an expert on you.
A woman who feels confident in what she's wearing – no matter what her size, is a woman you can't take your eyes off of. So Be You!