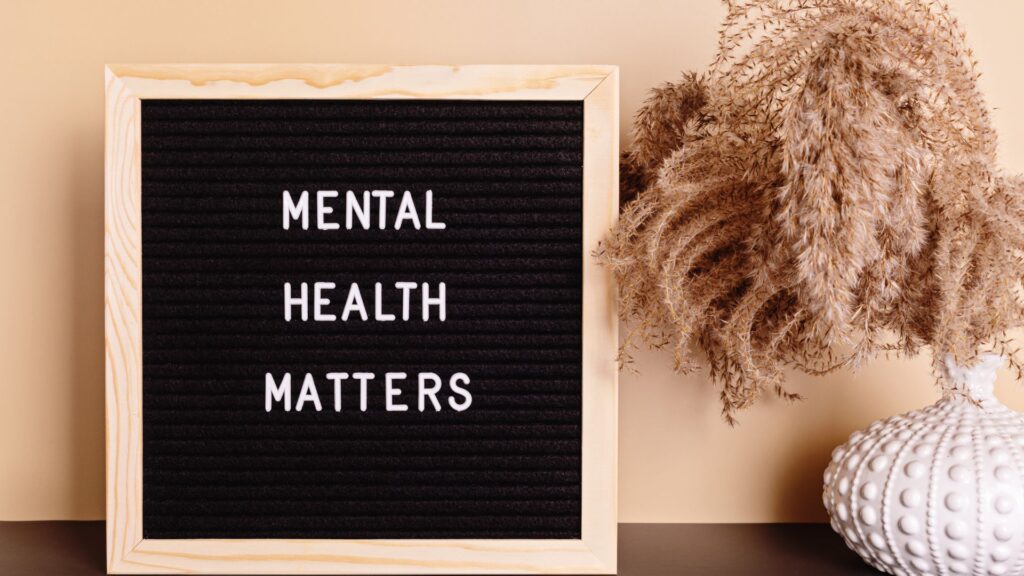 Mental Health Matters
When we think about our health, the first thing that comes to mind is our physical health such as weight, diet, health habits, physical exercise, and even disease.
But true health is not just physical. There are actually three pillars to address for attaining total health and wellbeing: Science (our physical health), Psychology (our mental health), and Spirituality (our spiritual health), and today I want to share a little about the mental health pillar and mental health issues.
Mental health issues have been on the rise, and even more so since Covid. The fear, worry, isolation, loneliness, and loss has caused a greater increase in mental health issues that may have an impact for many years. And sadly it's not just in adults. Mental health issues have risen in children and adolescents, as well.
Here are a few findings from Mental Health America
COVID-19 has had a profound negative effect on the mental health of the nation. Throughout the COVID-19 pandemic, MHA has witnessed increasing numbers of people experiencing anxiety, depression, psychosis, loneliness, and other mental health concerns.
In 2021, over 5.4 million people took a mental health screen, representing a nearly 500% increase over the number of people who completed a screening in 2019 and a 103% increase over 2020
The number and percentage of people screening with moderate to severe symptoms of anxiety remain higher than rates prior to COVID-19, and are particularly severe for youth and multiracial screeners. In total, 850,267 people in the U.S. took an anxiety screen in 2021, which was 422% higher than the total number of anxiety screens taken in 2019 and 56% higher than the number taken in 2020. Of the nearly one million people who took an anxiety screen in 2021, 79% scored with symptoms of moderate to severe anxiety.
More youth are struggling with their mental health and are seeking support online. Forty-five percent of individuals in the U.S. who took a screen in 2021 were youth ages 11-17 – 16% higher than the average in 2019.
The largest increases in the percentage of people scoring positive from 2019-2021 were on the parent and youth screens, indicating a large increase in the percentage of youth experiencing emotional, attentional, or behavioral difficulties during the pandemic. There were also significant increases in the percentage of people scoring at risk for PTSD, severe anxiety, and psychotic-like experiences from 2019-2021.
But our mental health can be affected by many other factors, besides the pandemic. Factors that we might face on a daily basis.
According to the Anxiety and Depression Association of America, the lifetime risk of depression is 17 percent. Anxiety disorders are even more common—in fact they are the most common mental disorder in the U.S.—affecting 40 million adults.
So What Is Mental Health?
Mental health includes our emotional, psychological, and social wellbeing. It affects how we think, feel, and act. It also helps determine how we handle stress, relate to others, and make choices. Mental health is important at every stage of life, from childhood and adolescence through adulthood.
Over the course of your life, if you experience mental health problems, your thinking, mood, and behavior could be affected. Many factors contribute to mental health problems, including:
Biological factors, such as genes or brain chemistry
Life experiences, such as trauma or abuse
Family history of mental health problems
Death and loss
Stress such as

Physical illness
Financial stress
Relationship stress
Life changes, and unfortunately, more
While not everyone's is affected by stress in the same way, many may find it extremely difficult to bear. If you're not sure if you or someone you know is living with mental health problems, here are the warning signs to look for.
Experiencing one or more of the following feelings or behaviors can be an early warning sign of a problem:
Early Warning Signs
Eating or sleeping too much or too little
Pulling away from people and usual activities
Having low or no energy
Feeling numb or like nothing matters
Having unexplained aches and pains
Feeling helpless or hopeless
Smoking, drinking, or using drugs more than usual
Feeling unusually confused, forgetful, on edge, angry, upset, worried, or scared
Yelling or fighting with family and friends
Experiencing severe mood swings that cause problems in relationships
Having persistent thoughts and memories you can't get out of your head
Hearing voices or believing things that are not true
Thinking of harming yourself or others
Inability to perform daily tasks like taking care of your kids or getting to work or school
Recovery Is Possible
Most people with mental health problems can get better. Treatment and recovery are an ongoing processes that happen over time, and the sooner addressed the better. People can recover from mental disorders and look forward to a brighter future.
What Recovery Looks Like
Recovery is a process of change through which individuals:
Improve their health and wellness
Live a self-directed life
Realize their full potential
Able to cope with the stresses of life
Work productively
Make meaningful contributions to their communities
Four Dimensions of Recovery
There are four major dimensions that support a life in recovery:
Health: Overcoming or managing one's disease(s) or symptoms and making informed, healthy choices that support physical and emotional well-being.
Home: Have a stable and safe place to live.
Purpose: Engage in meaningful daily activities, such as a job or school, volunteering, caring for your family, or being creative. Work for independence, income, and resources to participate in society.
Community: Build relationships and social networks that provide support, friendship, love, and hope.
Developing a Recovery Plan
If you are struggling with a mental health problem, you may want to develop a written recovery plan.
Recovery plans:
Enable you to identify goals for achieving wellness
Specify what you can do to reach those goals
Include daily activities as well as longer term goals
Track any changes in your mental health problem
Identify triggers or other stressful events that can make you feel worse, and help you learn how to manage them.
Ways to Maintain Positive Mental Health include:
According to mental health experts, here are some ways you can maintain positive mental health
Getting professional help if you need it
Connecting with others
Staying positive
Getting physically active
Helping others
Getting enough sleep
Developing coping skills
I'm going to add proper nutrition on the list. Researchers are finding that the typical western diet, which include heavily processed foods, large quantities of refined grains and soft drinks, and little to no fresh produce, increase the risk of depression and provide few physical and mental health benefits.
Research shows that nutrition plays an important role in maintaining a state of health and wellness. A nourished body and mind will be better equipped to handle life's challenges.
I know, from experience, that learning to feed my brain and body with nutritious foods helped me in my recovery from my depression, anxiety, and OCD.
Getting Help
While mental health problems are common, people can get better and many recover completely. The first step in recovery is getting help.
In the past, there was a stigma around mental health issues and seeking help. Thankfully, as a society, we are moving past that. There is nothing to be ashamed of. You are not broken, though it may feel that way, and if you are struggling with your mental health, it is important to reach out and start the conversation.
You do not have to live this way. I understand the need to have someone to talk to and someone who can help you develop a recovery plan and maintain your mental health.
Please feel free to reach out to learn about coaching with me at contact@shariseparviz.com or contact me below ⬇️.
Need Support Now?
If you or someone you know is struggling or in crisis, help is available. Please don't hesitate. Call or text 988 or chat 988lifeline.org
Sources: SAMHSA, MentalHealth.gov, MHA, Let's Eat Healthy