Yogurt Cheese (and Whey)
A delicious and healthy cream cheese alternative.

When I first heard about making yogurt cheese, I thought, "that's got to be hard" and delayed in trying it. But I finally did it and found out that it's a breeze!
I first used full-fat Greek yogurt and it made a very beautiful cheese spread. Today, I use my homemade yogurt over store-bought.
Whey can be saved for soaking your flours and for making smoothies later!
Makes approximately 1 cup of cheese and 1 cup of whey
Ingredients:
2 cups of plain, organic yogurt (makes )
Optional
1-2 cloves of finely chopped garlic
2 Tbs of finely chopped green onion
1 tsp of dried oregano. Dill is also a refreshing choice
1/2 tsp of sea salt
Tools:
Unbleached coffee filter (some use cheesecloth but I found the coffee filter much easier and less messy to use)
Strainer
Bowl to catch the whey
Directions:
Line strainer with coffee filter
Place strainer over bowl and spoon out yogurt into filter.
Cover and let stand overnight on the counter. The whey will run into the bowl leaving the cheese in the strainer.
In morning, discard whey or save in a mason jar for fermenting
Optional: mix in desired herbs
Store yogurt and whey in covered glass containers in refrigerator. Keeps for about 1 month (whey keeps for about 6 months)
Whey will keep in the refrigerator for about 6 months. Great for fermenting your flour and making healthy smoothies!
ENJOY!
Serve with sliced veggies or sprouted, gluten-free bread, or better yet, homemade bread.
YUM! and GONE! Making again!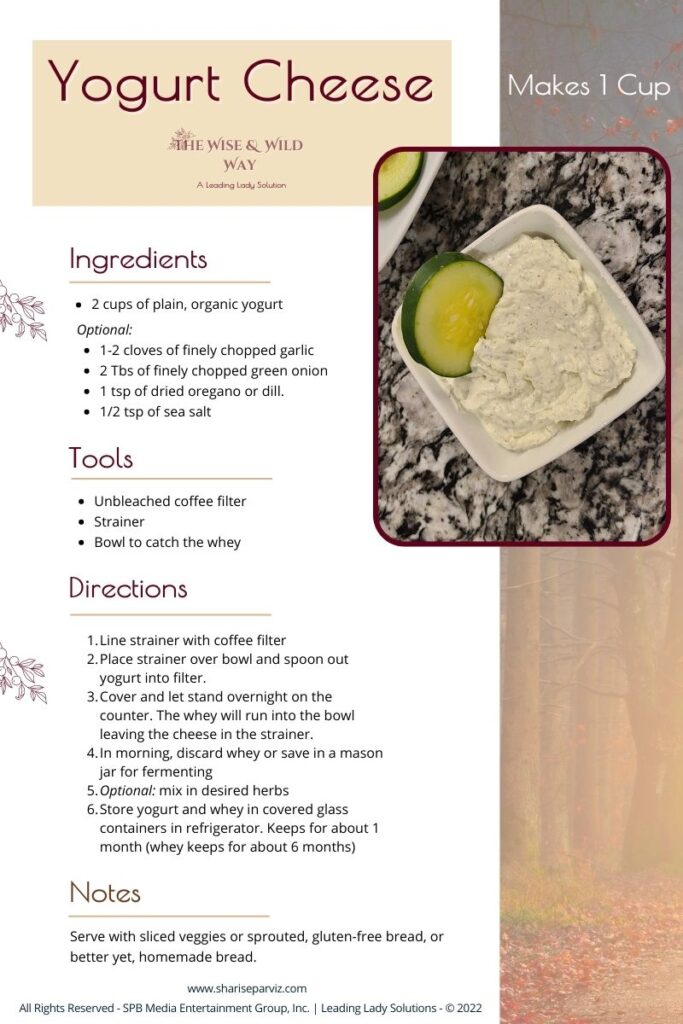 Click here to print out recipe